Oscar nominated filmmaker Chris Moore visited the University of Nebraska at Omaha campus last week. Moore spoke to students about turning creativity into strong ideas and producing successful films.
Moore hit what he considered the "pinnacle" with the 1997 film "Good Will Hunting." Moore's career has been marked by films and projects which are very different. Going from Good Will Hunting to American Pie in 1999 is a great example of this. He went from producing a drama film which was nominated for nine Academy Awards, winning two, to a raunchy teen comedy. American Pie was quite successful, if not award winning, earning more than $235 million on an $11 million dollar budget.
"It was one of the best experiences, it turned out to be one of the best choices financially and certainly one of the most profitable things I was part of. So all in all, it was a great decision. But you are not alone in saying how different that might have been (from Good Will Hunting)," Moore said.
There are several more film's Moore has produced which have been successful, but many more that haven't been.
"You mentioned a lot of the big things I've worked on and you know I've made 25 other projects and no one's ever heard of those," Moore said. "So I always say, if you make a movie no one sees it did you really make the movie?"
Moore said being a producer is enjoyable but can be taxing at times.
"It's always hard to be the grown up," Moore said. "It's always hard to be the guy that is throwing a little water every now and then on the on the creativity or the fun. But I really love it, I have a lot of fun and I think people who have worked with me on movies have a good time with movies I'm part of. I think any job – I don't care what it is – if you can make it more fun and a group experience you ought to."
Moore said the rewarding and nerve-wracking part of creating films is having the finished product screened by moviegoers. But when it works out, he said there is no better moment for a filmmaker.
"The thing that's interesting is, when somebody really paid money and gave up their free time to come watch something that you made and they have a good time – even if it's sad like Manchester by the Sea it's rough, it's not this simple this movie to watch – it's a really, really good feeling," Moore said.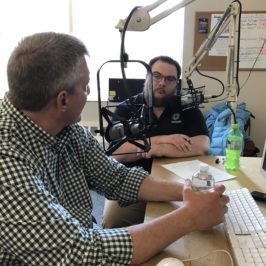 Moore said many people don't realize how much work goes into making a movie, from writing a script, getting it financed, casting, shooting it, post production and marketing.
"Particularly on a project where at one point you and like four other people were the only people knew the movie existed and now there's a bunch of people out saying how great it is. You do get a real sense of satisfaction you do sit there and feel, 'Wow, that that was worth it that was cool!' and we accomplished what we were trying to accomplish."
One main point Moore pushed in speeches to students at UNO was that prospective filmmakers don't have to move to New York City or Los Angeles to do so. He said you can make good films in Omaha and anywhere else potential can be realized.