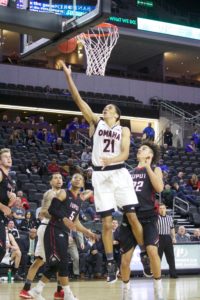 Maverick guard Zach Jackson goes up for two against IUPUI                Photo Credit: Morgan Wright
The Mavericks moved one step closer to winning the Summit League Championship and in turn clinching an automatic bid to the NCAA Tournament Monday evening as they defeated the IUPUI Jaguars 90-62. The Mavericks now advance to the Summit League finals on Tuesday.
Omaha was led by double-doubles from forwards Tre'Shawn Thurman and Mitch Hahn. Thurman contributed 15 points and 12 rebounds, his second consecutive double-double, and Hahn put up a team-high 21 points off the bench and grabbed 10 rebounds. Guard Tra-Deon Hollins added 19 points of his own, including a perfect 7-7 showing from the free throw line. Overall, Omaha shot an impressive 50 percent from the floor.
IUPUI was led by guard Darell Combs and his game-high 22 points on 7-15 shooting overall, including 3-6 from beyond the three-point line. Overall, the Jaguars shot only 31 percent on the night, and went 6-26 from beyond the three-point line, including an 0-11 start from beyond the arc.
Omaha started slowly from the floor, but only for the first few minutes of the game. IUPUI took the lead about three minutes in on a free throw from Combs, but from there, the Mavs grabbed the lead on a Thurman jumper and never looked back. Omaha continued to grow their lead throughout the first half, at ended the first half leading by 24 points.
It was more of the same in the second half, as the Mavericks extended the 24 point lead they held at the half to a game high 34 points with nine minutes remaining in regulation. From there, IUPUI went on a 19-4 run to cut the Omaha lead to 19, but the Mavericks held onto that lead and closed the door on the Jaguars with the 90-62 victory.
With the win, Omaha advances to the Summit League Championship game on Tuesday evening. Tip-off is scheduled for 8 pm from the Danny Sanford PREMIER Center. Alex Abler, Noah Sullinger, and Morgan Wright will bring you coverage live on MavRadio beginning at 7:30 pm.