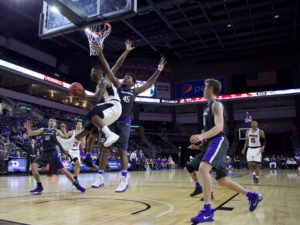 Tra-Deon Hollins (#24) goes up for the lay-in against Fort Wayne                  (Photo Cred: Morgan Wright)
The Omaha Men's Basketball team took advantage of poor play late from Fort Wayne to topple the Mastadons 84-80. The Mavericks were led by double-doubles from Junior forward Tre'Shawn Thurman and Senior guard Tra-Deon Hollins and advance to the second round of the Summit League Tournament.
Thurman said, "The jobs not done. So we understand we have two more to go. We want those two, we want to win and go to the NCAA Tournament. That's our goal."
The Mavericks jumped out to an early 7-0 lead over Fort Wayne, and at one point led by as many as ten about five minutes in before the Mastadons rallied behind a 55 percent shooting percentage for the first half. Fort Wayne was paced by 13 points from Sophomore guard John Konchar and 10 points from Senior center Brent Calhoun. Fort Wayne led at the half 42-33.
The Mavericks continued to struggle early on in the second half, trailing by as much as eleven with twelve minutes to go in the second half.  From there on out, the Mastadons struggled from the floor, shooting a collective 34 percent from the floor compared to the Mavericks 56 percent. The game went back and forth throughout the second half, until Omaha took the lead for good on a Tre-Shawn Thurman dunk. Omaha made essential free throws off Fort Wayne fouls to stave off the upset and move on in the Summit League Tournament. While Thurman is looking ahead, he knows what comes next for the Mavericks.
Thurman said, "Now we have to lock back in. We have IUPUI."
With the victory, Omaha advances to play against IUPUI Monday evening. Alex Abler, Noah Sullinger and Morgan Wright will bring you the action live. Tip-off is slated for 8:30 pm, and the winner advances to the Summit League Championship game.