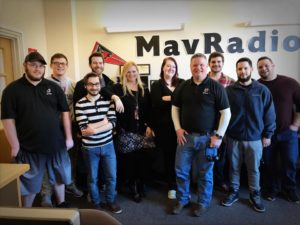 The University of Nebraska at Omaha's college radio station, MavRadio.fm, earned top honors in the 2017 Broadcast Education Association's national college radio and television contest.
MavRadio General Manager Noah Sullinger said, "It's an incredible honor to be selected as a BEA award winner, especially considering the caliber of competition throughout the country. As a station, MavRadio put up their all-time number for total recognitions, a number that speaks volumes about the talent and ability of this group."
The Festival of Media Arts competition received approximately 1,500 entries from 175 colleges and universities this year. Among the universities submitting awards were; ASU, Michigan St., Purdue, University of Florida, Syracuse, UC Berkeley, Elon University, University of Maryland, University of Nebraska- Lincoln, and Ball State.
This isn't the first time the station's talent has placed at the national level. In 2013, student Matthias Jeske earned 1st place for Best On-Air Personality. In 2014 and 2015, the award winners doubled to two both years. This latest competition (2016), however, was unprecedented as the radio station, that relies solely on donations and underwriting, produced seven award winners including two top spots. Here is a list of this year's award winners:
Radio/TV Sports Event: Play-by-Play Talent Category: 1st Place: Noah Sullinger, Justin Idelman & Justin Doering, University of Nebraska at Omaha; UNO Baseball vs. Oral Roberts
Sound Engineering and Production Category: 1st Place: Gonzalo Avalos, University of Nebraska at Omaha; The Arrival
Comedy or Drama: 2nd Place: Cole DeWispelare, University of Nebraska at Omaha; Ticking 3rd Place: Marti Vaughan, University of Nebraska at Omaha; The Shining Aftermath
Music Video Category: 3rd Place: James Zanders & Zachary Padilla, University of Nebraska at Omaha; Netflix and Chill PSA,
Promo or Commercial: Award of Excellence: Lyle Kwiatkowski, University of Nebraska at Omaha, Bubbles the Unemployed Clown
Radio Feature Reporting Category: Award of Excellence: Andy Prescott, University of Nebraska at Omaha; The Haunting of O'Connor's Pub