Omaha, NEB—There is an effective date where Salvadorians who have Temporary Protected Status (TPS) have 18-months to transition their lives and go back to El Salvador before September 9, 2019. Cesar Magaña Linares, a University of Nebraska Omaha student, is ready for the fight.
"TPS has never really had an impact in my education until possibly the fact that I could face deportation if this program does not get extended by congress or through any other means," Linares said.
He said that they now need to find a solution but with that comes emotional, financial and physical stress. Osmin Ayala a father and also TPS recipient who attends meetings from the Omaha TPS group is also sending out a message to the community.
"Llevo 27 años aquí en estados unidos, mi record esta impecable. Como les dije hace rato, no todos somos pandilleros, aunque uno se quite el pelo pelón, es 
el costumbre de aquí somos libres de ser lo que nosotros queramos. Andar como queramos," dijo Ayala.
I've been in the United States for 27 years, my record is impeccable. As I told you a while ago, we are not all gang members. Even if you some of us have bald heads, it is the custom here, we are free to be what we want. Walk as we want," Ayala said.
The Omaha TPS group will be going to the third round of Lobby Days in Washington D.C.  February 4-6 and they have already started raising funds for the trip. Ayala and Linares are staying active in their communities and advocating the importance of TPS and reaching out to congress about a path to residency here in the United States.
"The people we have direct influence over are right here in the state. People on TPS and DACA pay taxes and ultimately those tax payer dollars go towards our representatives and there's no reason why they can't represent us," Linares said.
The Omaha TPS group also met with Rep. Don Bacon, (R-Neb.) last year before the holidays and before TPS for El Salvador was terminated. "I don't think the congressman had a good understanding of what TPS initially was, which is okay. The TPS population I think has been well integrated into American society that people have kind of forgotten our status and now its relevant. Now it's time for people to care," Linares said.
Ayala also gave out this message, "Seguir nos preparando, seguir viniendo a las juntas, y seguir continuando con todo lo que sea que hacer, apoyando lo más que se pueda la comunidad salvadoreña y no solo la comunidad salvadoreña si no que a todos los que tenemos TPS de diferentes países, haitianos, nicaragüenses, hondureños, guatemaltecos, Dreamers, todos incluidos."
 Continue preparing ourselves, keep coming to the meetings, and continue with everything that to be done. Supporting as much as possible the Salvadoran community and not only the Salvadoran community but all of us who have TPS from different countries, Haitians , Nicaraguans, Hondurans, Guatemalans, Dreamers, all included.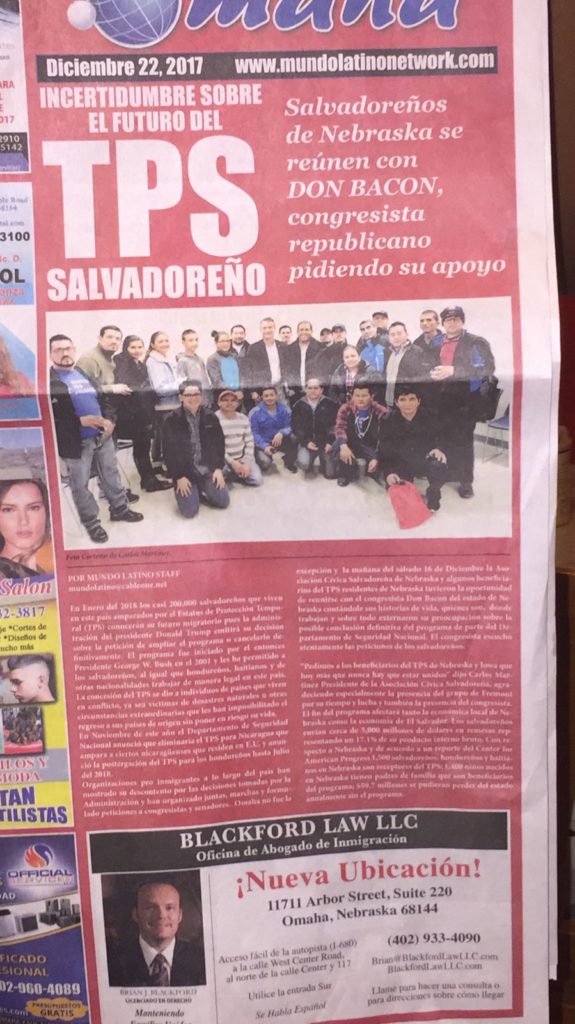 By Stephannie Zambrano, MavRadio News Director
Editor's note:
For more information on Temporary Protected Status please visit the uscis.gov website.
https://www.uscis.gov/humanitarian/temporary-protected-status