Women's March returns to Omaha with diversity and inclusion discussions ongoing, one year later.
By Michael A.C.
The one-year anniversary to the historical Women's March  in Omaha, and across the nation, is viewed as a sequel.  The conflicts inspired from the first march — both externally, as well as internally — are still transparent. This year's theme was called "March on the Polls 2018". The Women's March aimed to register one million people to vote in the upcoming election.  A local event was held in Downtown Omaha, which saw an estimated 8-thousand people in attendance — and an estimated 2.5 million nationwide.  Marches were also held in Lincoln and Loup City.
Created in response to President Donald Trump's inauguration, the Women's March opposes his remarks and policies.  A myriad of topics were expressed by marchers including health care, workplace concerns, as well as sexual assault, abuse, and domestic violence.  Held originally on Jan. 21, 2017, an estimated 12-thousand to 14-thousand marchers attended according to the Omaha Police Department.  Worldwide attendance was estimated at five million people — the biggest single-day protest in United States history.
The Response
Though attendance in Omaha was almost half of the previous year, the event gathered thousands at the Gene Leahy Mall. The Women's March continues to be popular, in contrast to the conservative-led Mom's March of America headlined by former Alaska governor Sarah Palin.  Held at Ralston Arena on Sept. 25, 2017, it had an estimated 300 in attendance.  The 2018 Women's March proceeded without noticeable incident. "I thought it was important for me, personally, to go," said UNO student Kaitlyn Ericksen — a campus organizer for It's On Us.
One of the most discussed topics at the Women's March was to sexual assault. "There were many #MeToo signs, and one of my favorite signs said 'Sex Offenders Cannot Live in Public Housing' with a drawing of The White House," Ericksen said.
A significant number of men attended the march, including UNO theatre major Jon Roberson.  Showing his support of the march's values, Roberson is a cisgender heterosexual male.  He marched for two consecutive years and said he intends to continue participating. "With recent events of sexual harassment [in the news lately], I felt I needed to show my support," said Roberson. "It felt good to get back out there and show the world that this march wasn't just a one-time thing and forgotten.  It's unfortunate we needed to march again but if we need to every year until something changes, then we will march again."
This year's post-march panel discussions were held in Downtown Omaha bars and restaurants.  Unlike last year large hall at Century Link Center, smaller, intimate panels were held simultaneously.  The majority of marchers did not, whether a preference of other plans or miscommunication.  One speaker noted on Facebook that no one arrived at her panel, which then disbanded and joined the audience for another panel. "The march itself felt short compared to last year," said Roberson. "We circled about a four-block radius and when we got back to where we started there really wasn't much of a send-off.  People were standing around asking if it was over.  My friend and I were standing around until the cops cleared the street."
UNO Sociology professor and panelist, Dr. Jenny Heineman. advocated for the abolishment of prison systems and the decriminalization of sex work. "Both issues are inherently about supporting women — specifically trans women, sex workers, and black women, because these three populations – which, of course, sometimes overlap – are the most at risk for interpersonal and systemic violence," said Dr. Heineman. "Including police brutality, discrimination in housing, and in work or school, domestic violence, just to name a few."
Points of Contention
Days leading to the event, polarizing views of intersectionality, diversity, and inclusion were highly debated on social media.  A PDF of the "Guiding Vision and Definition of Principles" outlined the Women's March's view of intersectionality on Page 3.  This year's keynote speaker, Ashlei Spivey of North Omaha discussed intersectionality.  However, some local marchers feel the language was not genuinely applied across the board. "I suppose I was a little less enthusiastic about this year's march," said Heineman, "As we saw last year, trans women, black women, sex workers, and other marginalized femmes were largely left out of the conversation."
"There were a couple of pro-immigrant chants that erupted," said Ericksen. "But I think that the biggest issues are the erasure of trans folx, non-binary folx, and women of color.  The conversation is still focused on mainly straight, cisgender, white women.  Through my work around sexual assault I know the rates are higher for women of color, trans folx, bisexual men and women, and other marginalized groups."
Regarding intersectional trans-feminism, Roberson said, "The issue was brought up but I don't think they talked about it enough."
"The Women's Fund and pink pussy (sic) hats are interestingly problematic in the same way," said Heineman. "There is a subtle perpetuation of 'respectable' womanhood – which is always white, middle class, CIS, able-bodied, and never involved in commercial sex."
"I don't think they should have been included in the march because of their connection with the erasure of the identities other than cisgender women," said Ericksen.
The Pussy Hat Project was a source of controversy and debate, Heineman said. "I saw a viral photo [this year] wherein a woman in a pink pussy (sic) hat was holding a sign that essentially said trans women aren't 'real' women.  I know there was a lot of people who did not want to be a part of the march for these reasons."
In a statement from her website, Pussy Hat Project co-creator Jayna Zweiman addressed these concerns.  She described the values of her project as "inclusivity, compassion, creativity, personal connection, and open dialogue, all to further women's rights and human rights. It is an exciting and ongoing process, and these criticisms are part of it."
The Future
The Pussy Hat Project is one of many grassroots and activism efforts in response to the Women's March.  However, some wonder if these efforts are unified.  The New York Times and Rolling Stone have revealed Women's March Inc. owns the name "Women's March".  It is unknown if alliances will be formed with the many organizations it inspired, or if intellectual property debates will arise.  With the many people inspired by the Women's March – and the variety of cultures identified, one is led to wonder which organization truly represents them. "It takes time and effort to learn to be intersectional," said Ericksen, "Even the best of allies aren't perfect."
The Women's March intends to continue in coming years.  In hopes to improve the event, the Omaha Women's March has created a feedback survey on its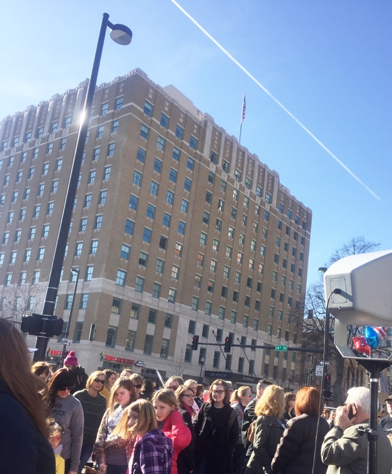 official website. Some say the Women's March is merely evolving.  There is speculation of its longevity beyond Donald Trump's presidency.   Proponents of diversity and inclusion see their concerns as vital to its future.  History has been made for a second time, but like the precariousness of time, only time will tell if the Women's March is a wind of change — or a mere sign of the times.
Michael A.C. is a MavNews reporter, and calls color commentary for UNO Omaha Women's Basketball.  He can be reached at michaelacmavradio@gmail.com